Mommie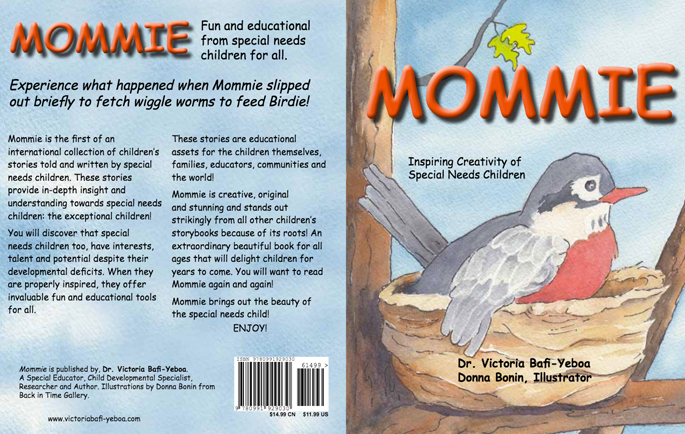 Mommie is the first children's storybook in the Hidden Treasure Collection from Families International Ottawa, Canada.
Mommie's story brings out the beauty of the special needs child!
It was in a lovely park where families enjoyed themselves with their children. Children ran after each other and slid on a slide. A mom flew a kite with her daughter and grandparents sat on a bench and happily watched their grandchildren at play.
At the same time Mommie sat on her nest in an oak tree near the park. Mommie protected her egg, warmed it, and hatched it into a beautiful Birdie. Birdie showed independence, bravery, adventure, drive and a sense of "you can do it." Experience what happened when Mommie slipped out briefly to fetch wiggle worms to feed Birdie!
Mommie is an extraordinary, beautiful book for all ages that will delight children for years to come. You will want to read Mommie again and again!
ENJOY!
Dr. Victoria Bafi-Yeboa presents Mommie. 
Illustrated by Donna Bonin Back- in time Gallery www.donnabonin.ca
Published by: Hidden Treasure Kids Creation Ottawa, Ontario Canada